The Old School

Review of CD by Peter Rowan
By Julius Timmerman
Posted Thursday, August 1, 2013
Inspired by father of bluegrass Bill Monroe, Peter Rowan's impeccable bluegrass music playing so deep-seated in American folklore is once again on display here.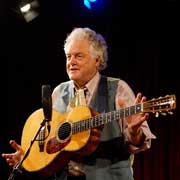 With a fine set of guest musicians, deliveries are all precise in tastefully arranged music that is traditional as it comes. JD Crowe's fine banjo playing is especially noteworthy. From rollicking tracks like the opener "Keepin' it Between the Lines" and the closer "O Freedom" to more contemplative ones like "Doc Watson Morning", a tribute to the most famous guitar picker of all, the album exudes class.
That said, Rowan's previous album "Legacy" had to be a hard act to follow – a sparkling album that exhilarates all the way. In "The Old School", there's a fine camaraderie amongst the players, who clearly enjoy struttin' their stuff, but they seem to be working a little harder than the crew on "Legacy", and yet the result is still less adventurous, with so many atypical numbers like the waltz "Letter from Beyond". If you just love bluegrass that won't bother you, it's merely a case of the sequel following in the slipstream rather than forging a different path.
All in all a genuine old-timey album – old school indeed - nicely executed as one would expect from Rowan and friends, with foot-tapping and beautiful moments amongst some plain ones. Fans will enjoy.
COMPASS 746002 (thru Planet Co.)