The Food Of Love

Review of CD by Belshazzar's Feast
By Julius Timmerman
Posted Wednesday, December 9, 2009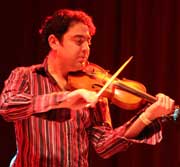 Belshazzar's Feast comprises classically-trained musicians Paul Sartin on oboe, violin, whistles and vocals, and Paul Hutchinson on accordion. Some may know Paul Sartin from his work with Bellowhead and Faustus. Belshazzar's Feast sixth release, Food of Love, is very English (although there is an Irish tune) featuring folk music with a few classical bits thrown in, apologies to Mozart and Bartok. Not only is the album sumptuously long and attractively packaged, but there's also a live disc thrown in that is entertainingly funny, sometimes reminiscent of PDQ Bach.
This is chamber folk music – steady as she goes, pleasant, light-hearted, sometimes a little up-tempo, sometimes slowly ruminative, a mix of songs and instrumentals neatly and stylishly performed. The oboe is used to good effect in creating poignancy as in Mark Knopfler's Cal, Sartin's solid voice is very gentlemanly, and the dances have an attractive lilt. There's a few humorous twists, like the well-known Music For A Found Harmonium combined with Rock Around The Clock, Mozart with Appalachian and Dol Thy Ale, a drinking tune breaking into a Rumanian Dance. Even Remember You're A Womble is in there.
Some may find The Food Of Love somewhat droll or low-key, and the live antics may wear thin, but it is an interesting foray into British folk music for those who like it delicately and thoughtfully rendered. As the title suggests, it could provide excellent dinner music.
Wild Goose Studios WGS353CD (thru Planet)