The Complete Guitarist

Review of CD by Davey Graham
By Julius Timmerman
Posted Thursday, December 10, 2009
It's great to see a remastered release of this 1977 seminal folk-blues album of Scottish-Guyanese virtuoso guitarist Davey Graham. Playing everything from ragas to ragtime, Graham had a big influence on John Renbourn, Bert Jansch and Paul Simon (all of whom recorded his famous "Angie"), as well as Martin Carthy.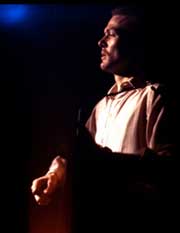 Produced by John Renbourn, the album contains an eclectic selection of classical and blues tunes, as well as folk jigs, reels and hornpipes from England, Ireland, Germany, France and Spain. They include Lord Mayo, Lord Inchiquin, Banish Misfortune, Davey's own 12-bar Blues for Gino and works by Navarez, De Visee and Bach.
Graham was a perfectionist, and these pieces show off his prowess at transcription and his dazzling finger-picking style with its many jazzy twists that make it so unique and personal. Sometimes he even plays the melody on the bass strings with a treble overlay. Many of the pieces are in the popular DADGAD tuning so a few sound alike, but the playing is so articulate and cool all the way there's really never a dull moment.
The only criticism is that despite no less than 16 tracks, the CD is at LP length, a mere 34 minutes, with room enough for another of his albums. But it is a very satisfying 34 minutes.
STEFAN GROSSMAN'S GUITAR WORKSHOP SGGW128 (thru Planet)