The Company You Keep

Review of CD by Alison Brown
By Julius Timmerman
Posted Wednesday, July 1, 2009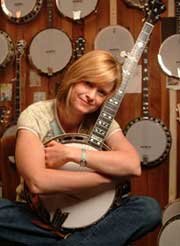 Another helping of jazz-country banjo fluff from Alison. Nicely recorded and deftly played, with an excellent cast of studio musicians, but musically not very distinctive. Stylistically, it's a rather bland new-age product with faint country roots although it is perhaps intentionally more jazzy than country, with lots of pretty doodling but not much earthy grit.
The compositions are mostly Alison's, with the help of the band's pianist John R. Burr, while The Road West is Mairtin O'Connor's and Forky On The Water is traditional. The instruments accompanying Alison's banjo include piano, mandolin, fiddle, bass, guitar and percussion.
There are certainly high quality production values here, just not a lot of deep musical ideas. The recorded sound is full, glossy and easy on the ears, but musically the album joins other wallpaper Americana coming out of Nashville at the moment that is unfortunately meaningless and forgettable (like Jerry Douglas's largely disappointing Glide).
One for the fans, perhaps.
Compass 7 4482 2 (Planet Co.)