Take Me Back

Review of April Verch CD
By Julius Timmerman
Posted Monday, March 19, 2007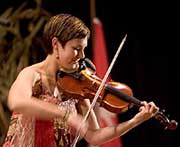 Canadian singer and fiddler April Verch's third album is an interesting if curious mix of country songs and Cape Breton-style instrumentals featuring vivacious fiddling and a sweet expressive voice. The album simply jumps from one style to the other and back again so some gear changing is required along the way.
It opens with the title track in ¾, a yearning true country song backed by fiddle, accordion, mandolin, guitar, bass and drums (a number of which are played by multi-instrumentalist Dirk Powell) before launching into a country dance set "Grand Slaque" comprising a waltz and reels on fiddle with piano backing. The other country songs that follow include a jaunty Missy Raines' "All In A Night", and contemplative ballads like "I Still Cry", the pretty "Bride of Jesus" that is reminiscent of Emmylou Harris, and "Cruel Moon". Of the instrumentals, there are pretty tunes by Verch and Andy Cutting, traditional Cape Breton jigs and reels, and a touch of up-tempo bluegrass in "Tennessee Wagoner".
April's band is very good indeed, contributing tasteful solos and providing a solid sensitive accompaniment. The recording and arrangements are clear and uncluttered. This is a distinctive and attractive album if you don't mind the mix.
ROUNDER 11661-7062-2 (PLANET DIST.)