Seya

Review of CD by Oumou Sangare
By Julius Timmerman
Posted Wednesday, July 1, 2009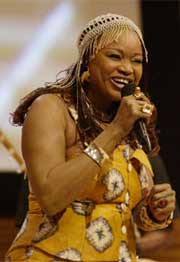 Seya is the first album in six years for Malian singer Oumou Sangare and it's been well worth the wait. This is a very solid, passionate and uncompromising album, full of strong persuasive vocals and chunky rhythms, with seriously creative arrangements played by a mighty talented backing band. Guests include fabulous kora player Toumani Diabate and equally fabulous guitarist Djelimady Tounkara.
Many African albums are influenced by Western sounds, with varying degrees of success, but Oumou Sangare has retained the traditional sound and feel of her homeland. No cheesy synths or the like here, but gutsy roots sounds with involving improvisations that grab the listener from beginning to end.
On this album as on others she sings her own songs about taboo subjects like polygamy, under-aged forced marriage, sensual love and the role of women in African society. Clearly she has a strong sense of values and that strength pervades this very confident and soulful album.
The funky Wassoulou sound, recorded in Bamako, arranged and produced by Cheikh Tidiane Seck (who must know just about everyone in the African music industry) is sophisticated and intricate so there is depth and joy ("Seya") on many levels.
World Circuit WLWCD081 (Fuse Music)