Savane

Review of Ali Farka Touré's final CD
By Julius Timmerman
Posted Tuesday, August 22, 2006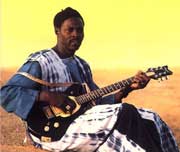 Ali fans won't be disappointed with his latest offering, indeed his last offering, as Ali recently passed away at the age of 67. Backed by a range of fantastic musicians, the album rolls along at a steady pace with chunky rhythms, easily-grasped tunes, and a wide range of song subjects.
The stark desert blues sound is well-developed and very involving in its intimacy. Ali's guitar riffs are neat and inviting, his voice insistent and powerful. His backing band of bamboo flute, ngoni (a four-stringed lute), traditional percussion instruments, a one-stringed violin called a njarka, a one-stringed guitar called a gurkel, vocals, and the occasional sax and harmonica, is totally in sync.
This is wonderfully emotive music, compelling and mesmerising, intense and gentle all at once. Amazingly, Ali never considered himself first and foremost a musician, but a farmer. Yet despite suffering from bone cancer for his last two years he made two wonderful final albums, "Heart Of The Moon" with Toumani Diabate and "Savane" which was released posthumously.
Ali thought these final recordings were his best ever. I'm sure he was right. Savane is arguably his definitive work. It's a magnificent closing statement, a beautiful parting gift.
Long live Ali.
Savane - WORLD CIRCUIT WCD075 (MRA)