Rough Guide To Salsa

Review of compilation CD
By Julius Timmerman
Posted Friday, December 14, 2007
Salsa was coined by Izzy Sanabria, Jerry Masucci and Johnny Pacheco in the early 1970s, although the Afro-Cuban origins of this music go back to the 40s in New York. It is a broad term for many Latin dance styles that continue to be popular, despite some decline in the 80s and 90s. They include the Cuban son/guaracha/mambo, Latin jazz, bolero, meringue, rumba and the cha-cha-cha.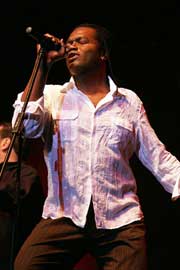 This is a broad compilation, over an hour, of new and older salsa recordings that covers a variety of styles and cosmopolitan origins like Africa, Cuba, Nicaragua, Colombia, Puerto Rico, Venezuela, the UK and the USA. We hear the likes of the legendary Wayne Gorbea, Los Angeles-based Ricardo Lemvo & Makina Loka, Colombian band Sonora Carruseles, Kekele from the Congo, contemporary mambo/cha exponent Angel Melendez, Alex Wilson, Cuban Yumuri Y Sus Hermanos and others, 13 in all.
The action never lets up here and the nightclub atmosphere is very enticing.
RGNET1184CD (thru MRA)