Rise And Shine

Review of CD by Sierra Leone's Refugee All Stars
By Julius Timmerman
Posted Thursday, July 1, 2010
Recorded in Sierra Leone and New Orleans, this album is the Refugee All Stars' second album following a strong debut album in 2006, Living Like A Refugee. The band's background is well documented – they were discovered playing in West African refugee camps while their homeland was being wracked by years of bloody warfare.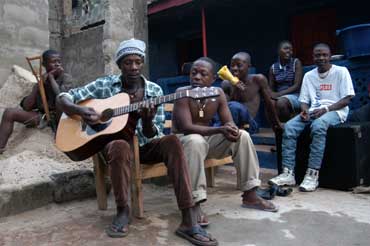 Style-wise SLRA alternate West African roots music with reggae. The success of this mix is limited. The band is undoubtedly better at the roots music - at least it's original. The album begins with a chunky Afro dance beat in Muloma (Let Us Be United) which one might think sets the scene for the album as a whole. However it then launches into some pretty standard reggae with Global Threat, a song that arguably parodies Bob Marley ("it's about a revolution"). Then back to a traditionally styled "Oruwiebie", a marvellously loose polyphonic number accompanied only by percussion. Then back to the reggae and so on. Elsewhere one can hear the influence of ska as well, while Tamagbondorsu (The Rich Mock The Poor) is an upbeat soukous number, an infectiously happy song that exemplifies just how well the band performs West African dance music. Goat Smoke Pipe too is an intimate acoustic African song that flows straight from the heart in a most attractive way. But then one is blasted back to the techno world of reggae and the moment is gone. Only in the modest closing track, Watching All Your Ways, does the reggae beat sound more interesting in an acoustic context.
SLRA has come a long way, and good on them, garnering plenty of acclaim from notable musicians around the world, and having plenty of success on stage. They are fine musicians. I just preferred the West African roots music to the reggae.
Cumbancha (thru Fuse Music)