Outside The Box

Review of CD by Billy McComiskey
By Julius Timmerman
Posted Tuesday, October 21, 2008
Irish-American accordion player extraordinaire Billy McComiskey struts his stuff in a bouncy and beautifully recorded album of traditional tunes, mostly in medleys, accompanied by an excellent set of studio musicians. These include Sean McComiskey, Liz Carroll, Joanie Madden, Athena Tergis, Brendan Dolan , John Doyle and Mick Moloney.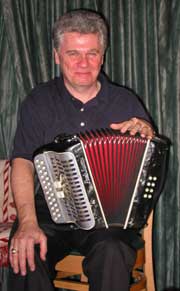 McComiskey started playing at an early age and has developed a flawless technique. He plays an extremely rare late 1940's to early 1950's vintage four-voice gray Paolo Soprani B/C button accordion that once belonged to the late Sean McGlynn. It has a rich beautiful tone.
The only qualm some may have about the album is that Billy is upfront the whole way, showcasing himself only without giving his fellow musicians the occasional spotlight. This means that while the jigs, reels, hornpipes, lullabies and waltzes are all engaging and beautifully played, there is little variety in the instrumentation, so the listener has to really love the accordion itself, the way Billy does.
Mick Moloney has written extensive biographical notes while Myron Bretholz has done the same for the medleys.
Lovers of the squeezebox will enjoy this Irish feast.
Compass 744882 (Planet Dist)