One World, Many Cultures

CD review of Putumayo compilation
By Julius Timmerman
Posted Thursday, December 21, 2006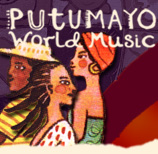 Another delightful and well-chosen compilation from Putumayo, centring on collaborations between musicians from different cultures.
Senegalese Wasis Diop and Liena Fiagbe open proceedings with a funky African Dream, one of favourite African numbers, followed by Alan Stivell and Youssou N'Dour from the wonderful I Douar album featuring Stivell and friends. Then we have Toots and the Maytals doing their individual brand of Jamaican reggae with Willie Nelson which works remarkably well, Taj Mahal and Toumani Diabate, which didn't work as well as one would have thought, Tama and Susheela Raman, a bright star from India, an Algerian/Jamaican combination of Cheb Mami with Ziggy Marley, Gigi from Ethiopia, Baka Beyond and more.
All are top quality productions and as always there's lots of info on the artists. Chock-full of engaging rhythms and melodies, this is a thoroughly agreeable demonstration of the power of music to get people grooving together and having fun doing it.
Putumayo PUT258-2 (MRA)