One More Round

Review of CD by Enoch Kent
By Julius Timmerman
Posted Wednesday, July 1, 2009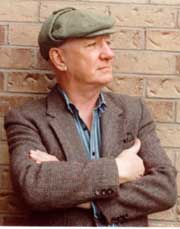 The title suggests pub songs, and many might regard this album as one to listen to after stumbling home after a few drinks and managing to find the play button. From gentle ballads like Jamie Raeburn and The Butcher Boy to more rousing numbers like Supper Is Na Ready, Itches In Me Britches and Coulters Candy, Scottish-Canadian Enoch Kent takes the listener through an amiable set of Scottish songs, mostly traditional, that you could either sing along to, or wave your beer in time to. Lyrics are provided to help those not seeing double during play.
Sparsely accompanied by Kelly Hood on pipes and whistle, and Pat Simmonds on accordion, guitar, bouzouki, fiddle and whistle, Enoch's approach is fairly laid back, but with his husky ageing voice he brings out the melodies with genuine passion. As he says, "I try to sing the sense of the song, not just the words."
A warm, very Scottish, very traditional set of popular old-time ditties. Slainte!
Borealis Records BCD190 (Planet Co.)