Nine Heavens

Review of Niyaz CD
By Julius Timmerman
Posted Saturday, December 20, 2008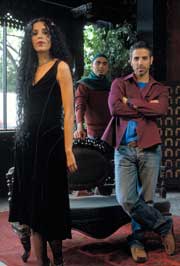 Born in Tehran, Iran, Azam Ali grew up in India and as a teenager moved to USA with her mother in 1979. Her music career that began there now spans more than a decade and remarkably already includes four solo albums and six collaborative ones. These include four with multi-instrumentalist Greg Ellis in a duet called Vas and now two in a Los Angeles-based trio called Niyaz where she is joined by Loga Ramin Torkian, master of many traditional instruments from Europe, Turkey and his native Iran, and Grammy-winning producer/re-mixer Carmen Rizzo (as well as some guests). Azam both sings and plays a santour or hammered dulcimer, and not surprisingly her music has been compared with that of Lisa Gerrard and Brendan Perry's Dead Can Dance – a fair comparison in terms of ethereality although her Vas recordings are not as punchy, more like later Loreena McKennitt yet less florid. For Niyaz think Natacha Atlas plus Dead Can Dance and you are in the right ball park.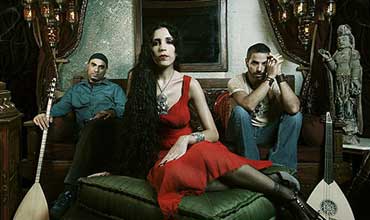 Nine Heavens is a double-CD of traditional folk songs as well as Medieval Farsi, Urdu and Sufi poetry from Persia, Turkey and India. One CD is electric, the other has corresponding acoustic versions. Not that I found the listening experience between one CD and the other a whole lot different – it's all good, with deft, stylish arrangements and very high production values all the way. It's a nice idea though to give the listener the choice between traditional and modern arrangements.
Where the music of Vas was interesting enough, here the results are far more exciting. Azam has clearly developed musically in leaps and bounds, and her rich sensuous voice is just right for this complex cross-cultural blend with its agreeable balance between old and new. This is highly penetrating stuff, ancient mystical music with engaging beats producing deep ambient grooves and tribalesque chants, all rich in musicality and spirituality. Azam's depth of expressive feeling, the technical mastery of the various traditional instruments or electronica and the imaginative arrangements result in a series of haunting, exhilarating soundscapes.
A must for anyone interested in Eastern-styled cross-over.
SIX DEGREES 657036 1150-2MJ (FUSE)