Meet You There

Review of Oysterband CD
By Julius Timmerman
Posted Tuesday, July 24, 2007
Long-standing folk-rock band from the UK Oysterband have produced a tidy solid, yet mostly undistinguished album in "Meet You There".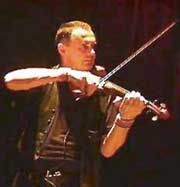 It opens beautifully with a mbira (thumb-piano) introduction to a rollicking pulsating "Over The Water", a song of distant lands. Then comes a driving acoustic "Here Comes The Flood" about globalisation. Then a chunky "Where The World Divides" from which the album title derives – "I'll meet you there where the world divides" – style-wise almost a cross between Aussie rock and Scottish folk-rock band Runrig.
The album continues apace with "Walking Down The Road With You", "Everything Must Go", "Control", "Someone Somewhere" (very Midnight Oil-ish) and "Just One Life", punctuated by only two slow songs "Bury Me Standing" and (ironically) "Dancing As Fast I Can", another song with a Runrig flavour.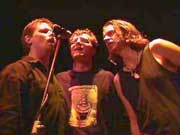 Fiddler Ian Telfer says it is the most consistent thing they have done, with great tunes, strong lyrics, wry politics, a deep-down musicality and big dynamics. That sums it up pretty well. It certainly is mostly loud and punchy (the milder opening track is deceptive), perhaps aimed a little more at rock than folk enthusiasts. Despite thoughtful lyrics and a few catchy tunes though, it has a commercial mass-produced sound that doesn't stand it out from the crowd. If it's fair to measure Oysterband against Runrig, Runrig was far more distinctive than this. The album opens promisingly but by the half-way mark a hard wall-of-sound blandness has set in. Perhaps they just overdid it on thump and may have been more effective unplugged at least some of the time to allow greater individuality from the players and their particular instruments. Whatever the case though, there's no doubting their enthusiasm.
Westpark Music (thru the Planet Co.)