Lost John Dean

Review of Kane, Welch & Kaplin CD
By Julius Timmerman
Posted Monday, October 16, 2006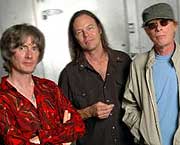 Second album from Kane, Welch and Kaplin (after You Can't Save Everybody, reviewed Trad & Now Autumn 2005) on their own Dead Reckoning label hits the spot again – even harder! These guru songwriter-performers from backwoods Americana don't lose a beat here with another serving of gutsy rootsy rural blues (sometimes nicknamed alt-country) where all are equal and all feed off and have fun with the others, even in the darker moments.
Gutsy Appalachian style balladry
Kieran and Kevin are a totally cohesive vocal/guitar duo, as you would know if you saw them when they toured Australia, and Fats adds just the right amount of spice. They let their music speak for itself – no grandstanding, no pretense, just fine friendly musicianship.
Livelier than its laid-back predecessor but just as intimate, Lost John Dean was recorded in six days. The playing is spontaneous, the sound lean yet striking, the lyrics poetic. A strong and highly textured collection of Appalachian-style balladry.
DEAD RECKONING DEAD 0024 (SHOCK)