Landmarks - 30 years of a leading folk music label

Review of Fellside Compilation CD
By Julius Timmerman
Posted Monday, April 16, 2007
This is a totally wonderful collection of tracks on 3 well-filled CDs (for the price of one) from the extensive catalogue of Cumbrian label Fellside.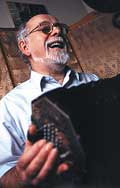 Fellside was started in 1976 by husband and wife team Paul and Linda Adams, more as a hobby than a business. Their transition from making LPs to making CDs only occurred in 1990, but they have progressed from 2-track to 24-track recording and produced over 200 albums with some of the most well-known artists in the British folk scene, as well as a host of fine up and coming artists. It's a great homespun success story, and this will be clearly evident from the wealth of quality material on this compilation celebrating 30 years of recording.
Names like Martin Carthy, John Kirkpatrick, Maddy Prior, Nic Jones, Nancy Kerr, James Fagan, Sandra Kerr, John Faulkner, Peter Bellamy, Roy Harris, Martyn Wyndham-Read, Jez Lowe, Dr Faustus, Bob Davenport, Gerry Hallom, A.L. Lloyd and Rick Kemp will be pretty familiar to many. But how many know brilliant singer/guitarist Dave Walters who made his debut album for Fellside, singer Steve Turner whose style harks back to Peter Bellamy's work, plaintive duo vocalists Sara Grey & Ellie Ellis singing American traditional music, the harmonies of Jolly Jack, Cockersdale or Lucky Bags, the rich jazz-blues of Marilyn Middleton Peacock or Ken Colyer's Skiffle Group, and the rich dance tunes of Crookfinger Jack? There's 68 tracks in all, too many to describe one by one, but I'll just mention a few more unfamiliar artists here that blew me away like the dazzling 422 band, Northumbrian pipe player Andy May, Scottish fiddler Alistair McCulloch, singers Kieron Means, Janet Russell, Christine Kydd and Patti Reid, and grassroots folk-blues artists Pete Oakley, Johnny Silvo and Diz Disley.
I enjoyed this collection immensely and I would be surprised if any serious folk music enthusiast didn't find heaps to enjoy as well. It will no doubt spur many on to order the albums from whence the tracks came. The recording quality is consistently excellent too.
Fellside FECD203 (Planet Dist.)