Lamp Fall

Review of Cheikh Lo CD
By Julius Timmerman
Posted Monday, October 16, 2006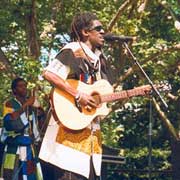 Fans of Cheikh get in the queue! His first album in six years, and his third solo international effort for World Circuit, is another brilliant effort. It was recorded in Dakar, London and Bahia, Brazil. Like his others it is eclectic, individual and brims with joyful melodies, nicely sprung rhythms and tasteful, creative arrangements.
Cheikh Lo, from Senegal, states that the theme of the album is his Africa, a plea against war and poverty, but it's also about love, religion and spirituality. As on his previous albums there is a huge variety of African rhythms, with a little Latin thrown in as well. Apart from two that are vaguely similar, each track is a completely different adventure, from songs of praise to full-blown dance numbers.
The opening song "Sou" sounds very French with its mellow accordion, although it is sung in bambara, a Burkina Faso language. From there we proceed to some delicious funky dance tracks like "Xale" and the soukous-inspired "N'Galuia", a processional "Senegal-Bresil" conjuring up a carnival, psalm-like soulful ballads such as the evocative "Sante Yalla", a reggae "Bamba Mo Woor" and more.
Senegal master does it again
There are plenty of contributing musicians yet mixes remarkably never sound crowded, often even understated. Many are elegantly mbalax percussion-driven, while Cheikh's wide-ranging mellifluous voice is always clearly focused whether it is intimate or passionately soaring. There is a judicious employment of wind or vocal choruses, and guitar, saxophone or other instrumental solos blend rather than project.
The warm unpretentious music always flows naturally, the ensemble playing is as tight as it gets, and the ambient recording is full and detailed. Perhaps not his best, but a most engaging album that will stand repeated listening.
WORLD CIRCUIT WCD073 (MRA)