Introducing Mamane Barka

Review of CD by Mamane Barka
By Julius Timmerman
Posted Tuesday, September 1, 2009
Malam Mamane Barka is a rarity. A rarity because he is the only master of the biram in the world. The biram is a boat-shaped harp with five strings, originating in the Niger Republic. In some ways it is like a kora, but has a deeper more earthy sound. Malame began learning in 2002 how to play the biram from Bouka Tar of the Boudouma tribe at Lake Chad. Boukar Tar gave Mamane his last biram as a gift and has since passed on, leaving Mamane to carry on the tradition.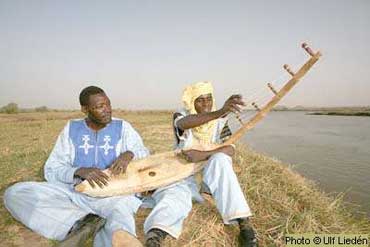 He does this beautifully, ably accompanied by master percussionist Oumarou Adamou on the douma, kalangou and calabash. These two have known each other for many years and began a musical collaboration in 2006. Mamanou was a nomad of the desert Toubou tribe and Oumarou is the son of a Hausa griot from Maradi in southern Niger.
Most of the tracks are traditional songs and chants about ancestors, spirits, the beauty of their landscape, braveness of warriors and animals like camels, goats, fish and birds. Mamane also includes his own songs with messages for the youth, and there are two instrumentals.
Beautifully recorded over three days in London, this is a remarkable listening experience, if perhaps requiring an acquired taste. Whilst it may be quite typical of North African desert music, the delicate warm sound of the biram itself and the mesmerising rhythms, sometimes flowing sometimes jagged, pushed along by really fine percussion, give this fascinating album a unique flavour. There is much to appreciate here for World Music lovers.
World Music Network 114CD (Planet)