Introducing Etran Finatawa

CD Review
By Julius Timmerman
Posted Friday, August 25, 2006
Subtitled Desert Crossroads: Tuareg and Wodaabe Nomads Unite, the music of Etran Finatawa will be a new experience for even the most seasoned African music fans. Sometimes reminiscent of the desert music of Ali Farka Toure, it is mesmerising tribal chant from Niger sung with devotion and rhythmically accompanied by a mix of traditional and western instruments including electric guitars.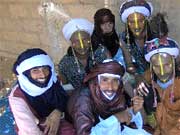 The band has ten players – four Tuareg and six Wodaabe nomad musicians, although only half actually recorded the album. These two tribes are two of eleven surviving ethnic groups who have been at the crossroads between North Africa and the Sahara for thousands of years. Their cultures are ancient and rich, yet despite their proximity are very different. Their songs are often healing songs, while others are inspired by their austere merciless environment – famous desert dunes or the rhythm of the camels walking upon them or the difficulties of fulfilling their Moslem religious duties while their cattle are running away!
World Music at the Desert Crossroads
Etran Finatawa means "the stars of tradition". Each of the two tribes has retained its own traditional essence even with the modern Western instruments. The polyphonic and monodic chanting takes pride of place, while the guitars, calabash and assorted percussion accompany. It's all done with aplomb, but the deeply spiritual tribal sound with its pulsating beat, while initially mesmerising and exhilarating, eventually tends to become rather relentless and seemingly unvarying.
Nevertheless, an interesting album from a far-flung corner of the world.
WORLD MUSIC NETWORK INTRO105CD