Historical Collections of Scottish Songs

Review of Scottish Music CDs
By Julius Timmerman
Posted Tuesday, September 5, 2006
These historical audio documents are wonderful collections for those wanting to source the roots of Scottish music.
Gaelic Songs of Scotland derives from a collection of over 250 songs Alan Lomax recorded in the Highlands and the Hebrides in 1951, representing the Gaelic tradition that is centuries old. The songs recorded were all done in their natural settings – in the fields, on the shore, in boats, in the barn and so on. The songs on this album are sung by women at work on the croft and in the home. They hail from South Uist, Benbecula, Barra, Lewis and Moidart.
The songs are interspersed with interviews on various topics about life in the district – the shielings, the flocks, spinning, waulking and so on. Translations are provided, as are historic photos. As you would expect some of it is rough, but it's certainly fascinating material, and the recordings are good for their age. They will transport you back to another era and perhaps remind you of those wonderful black and white movies made in the Western Isles in the 50s.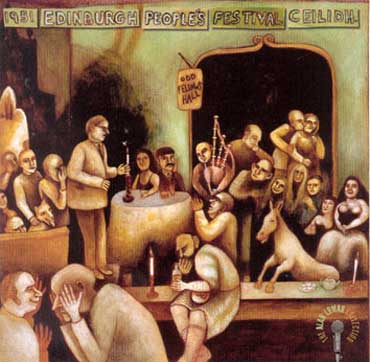 1951 Edinburgh People's Festival Ceilidh - Before 1951 Lomax had collaborated with Ewan MacColl and Hamish Henderson in various ways, and had collected a number of songs with his help. Henderson was Lomax's guide in 1951 when Lomax's recording ventures swung into top gear. The official Edinburgh Festival had begun in 1947 and in 1951 a People's Festival was organised, followed by the People's Festival Ceilidh. There were poetry readings, plays, art exhibitions and two nights of performances of Scottish music.
Importantly this music came direct from Gaelic traditions, from Barra singers Flora MacNeil and Calum Johnston, Aberdeenshire ballad-singers, Hebridean singers, master piper John Burgess and many others who demonstrated that the music tradition was alive and well. Henderson introduced the performers. I immediately recognised a lament of William Chisholm of Strathglass about the losses Prince Charlie caused to the highland people – Mo Run Geal Og, sung by Flora MacNeil – as it was recorded again much later by Capercaillie on "The Blood Is Strong".
The album is basically a time machine, thanks to Alan Lomax. It's an important and fascinating recorded document.
Gaelic Songs of Scotland - Women at work in the Western Isles (Alan Lomax Collection)
ROUNDER 11661-1785-2 (PLANET DIST.)
1951 Edinburgh People's Festival Ceilidh
ROUNDER 11661-1786-2 (PLANET DIST.)