Game Set Match

Review of Nic Jones CD
By Julius Timmerman
Posted Monday, April 16, 2007
Just when you thought there would never be any more Nic Jones to savour, along comes an album of fifteen live performances from the seventies, taken from "lost" tapes kept in the family. It's like a gift from the gods, showing Nic at his very best.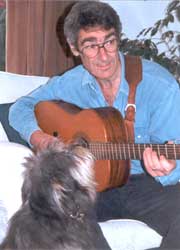 I had to listen again twice when I read they were live recordings. The playing is flawless, the quality of the recordings, if a bit variable, is remarkably good, and the applause has been edited out.
Nic made only 5 studio albums in the seventies, culminating in the legendary "Penguin Eggs" for Topic in 1980, before his career was cut short by a car accident in 1982. His early tastes included rock and jazz, but he soon found his place, by chance it seems, in folk music. His influences in this arena include Alex Campbell, Shirley Collins, Archie Fisher, Bert Jansch, Davy Graham and Martin Carthy.
In his day he was certainly one of the finest solo performers in the English folk scene, and when you hear this superb collection of songs, you'll understand why.
Nic's inspired guitar work is mesmerising while his lucid singing soars over the top and really grabs hold of you. Standing out for me are "Clyde Water", "Rufford Park Poachers" and "Billy Don't You Weep For Me" with their rolling guitar accompaniment and strong story-telling, but there's so many wonderful performances here including "Banks of Fordie", "Isle of France", a most interesting version of "Dives and Lazarus", "Bonny Light Horseman" and "Seven Yellow Gypsies". A generous fifteen tracks in all.
Nic Jones is arguably one of the most stylish English ballad singers. This album is testament to a most exciting performing career. Not to be missed.
TOPIC TSCD566 (PLANET)