Full Tide

Review of Mary Black CD
By Julius Timmerman
Posted Wednesday, September 6, 2006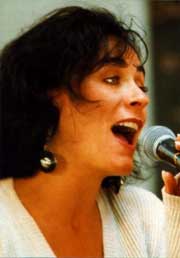 Mary Black used to sing great traditional Irish music. She still has a beautiful voice but alas, her style has now well and truly settled into the murky depths of bland MOR.
Full Tide is an album of mostly forgettable and often repetitive numbers that make for an entirely prosaic experience. There is some relief in the traditional Suil A Run, a lovely Gaelic song, but even here the emotive aspect is over-milked. Clannad's version remains preferable.
The songs by Noel Brazil ("The Land of Love", "Stand Up", "Japanese Deluxe"), Bob Dylan ("Lay Down Your Weary Tune", "To Make You Feel My Love"), Sandy Denny ("Full Moon") and others often have thoughtful, even inspiring lyrics, but either the composition itself or the musical arrangement fail to match. The result is pure monotony, with each song having much the same feel as the next. Perhaps it's the vague country music flavour that doesn't sit right, but Mary sounds like she's swimming against the tide trying to tug at heart strings, not helped by backing musicians on guitars, keyboards and drums who are just going through the motions. Two tracks, "Your Love" and "Stand Up", written by Mary with her guitarist Danny O'Reilly are strictly paint-by-numbers.
Even a variety of recording locations in Ireland and Australia hasn't inspired variety in the recordings themselves. I hope she can revive the fresh sparkle she had, that seems to be eluding her at the moment.
3U RECORDS TORTVCD1168 (MRA)