For Love and Laughter

Review of CD by Solas
By Julius Timmerman
Posted Wednesday, December 17, 2008
Solas have been in the business of Irish music-making for quite a while now and have undergone a number of personnel changes along the way. This line-up sees Seamus Egan on flute, guitar and various other instruments, Winifred Horan on fiddle, Mick McAuley on accordion and guitar, Eamon McElholm on guitar and keyboards and vocalist Mairead Phelan. Special guests include The Duhks.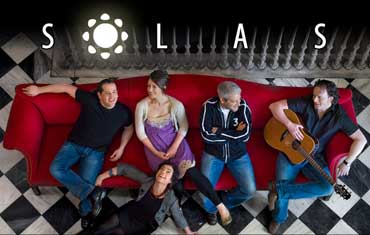 The songs and instrumentals are a mix of traditional and contemporary, including those written by band members, and Sailor's Song by Rickie Lee Jones. The instrumentals are consistently rousing and deftly played by these excellent musicians, while Mairead lends a tender expressive voice to the songs.
As on recent albums, Solas pushes the boundaries of its Irish roots, with mixed success, depending on what you are listening for. There's a growing trend in Irish albums to have the kind of mix exemplified by this album, and it must be because there's an audience out there. If however you are a pure traditionalist, this may not be for you. The core band is a slick ensemble of seasoned enthusiastic musicians but overall there's a clinical sense of going through the motions. Both the music and Mairead's voice are good but perhaps not memorable, and the warm "old-fashioned" Irish traditional essence has been cooled down somewhat.
Well you may say, this is the 21st century - in the end it may just be a matter of personal taste in style as to how enjoyable it is and how it will stand up to repeated playings.
Compass 744802 (Planet Co.)