Flower & Iron

Review of CD by Malinky
By Julius Timmerman
Posted Wednesday, September 2, 2009
Formed in 1998 in Edinburgh, stylish folk band Malinky has undergone a number of personnel changes but has remained strictly traditional in style – no playing to the crowd with pretentious modernisms, no electronics, just wholesome acoustic grassroots music. On Flower & Iron, their fourth album, the strong commitment to Scottish ballads is again evident, as is the touch of class and distinction displayed in the very fine musicianship and some beautifully creative arrangements. Although they play a variety of instruments – guitars, bouzoukis, jew's harps, struti box, whistles, flute, cello and bodhran – only a small number are employed at any one time, with the choice always seeming just right, giving the music a homespun feel that emphasises the essential musicality of the material. To top it off, all five members male and female, provide excellent vocals, highlighted by the captivating voice of Fiona Hunter. What more could one want.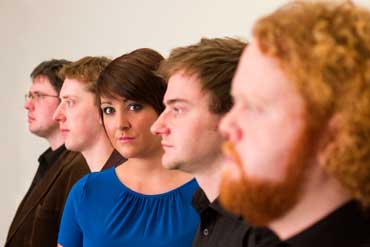 There are nine vocal tracks and three instrumentals, presented in an uncomplicated, often rambling style so the essence of the music is savoured. Traditional songs include the rollicking Pad the Road Wi Me, The Broomfield Hill and The Ploughboy and The Maid. Then there's a poignant politically-inspired Dark Horse On The Wind by Liam Weldon, a lively Shipyard Apprentice by Archie Fisher and the gentle Road Tae Drumleman, words by Willie Mitchell and tune by the late Tony Cuffe from the legendary Scottish band Ossian.
They've clearly researched extensively when compiling the songs for the album, and the sleeve notes make for interesting reading. Lyrics are also provided.
This is an unassuming but highly involving gem from this very fine band.
Greentrax CDTRAX330 (Planet)