Easin' Back To Tennessee

Review of Colin Linden CD
By Julius Timmerman
Posted Thursday, August 24, 2006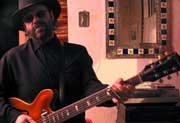 Canadian singer/songwriter/guitarist Colin Linden, currently based in Nashville, has made nearly a dozen albums in the last 25 years. He has played on over 300 and produced 60 (including Bruce Cockburn's Speechless). He is a Juno Award winner and a Grammy nominee. He also plays in a band, but on this album he plays and sings good old-fashioned acoustic country blues either solo or backed by Larry Taylor (x-Canned Heat/John Mayall/Tom Waits) on bass and Stephen Hodges (x-Tom Waits) on drums.
Some of the all-time great blues players are represented, like Sleepy John Estes' "Easin' Back to Tennessee", Blind Wille McTell's "Broke Down Engine", T-Bone Burnett's "There Would Be Hell To Pay", Tampa Red's "You Can't Get The Stuff No More", Son House's "Dry Spell Blues" and Blind Willie Johnson's "Trouble Soon Be Over". Linden adds four of his own inspired compositions that sit comfortably amongst the classics.
Linden may not be a household name but his veteran credentials are first-class – this guy sure can play, and his urgent voice is just right for the style. His high-energy bottleneck guitar and fancy fretwork clearly come from a seasoned musician steeped in the genre, yet this is not just imitation but individually crafted no-holds-barred chunky blues roots for 2006. Like Kieran Kane's and Kevin Welch's music, there's a distinctive rural Americana at play here that really reaches out and grabs like a swamp fever.
TRUE NORTH TND401 (PLANET DIST.)