Double Play

Review of CD by Liz Carroll and John Doyle
By Julius Timmerman
Posted Saturday, May 30, 2009
Fiddler Liz Carroll and guitarist John Doyle have been playing together for a long time, including appearances in the Irish-American group Green Fields of America. They played together for President Obama on St Patrick's Day 2009.
On this follow-up to their "In Play" of 2005 they strut their stuff alongside percussionist Kenny Malone and organist John R. Burr, in an exhilarating display of Irish traditional and original songs and instrumentals. The sound is remarkably full despite the few instruments, and Doyle's fine voice is in good form.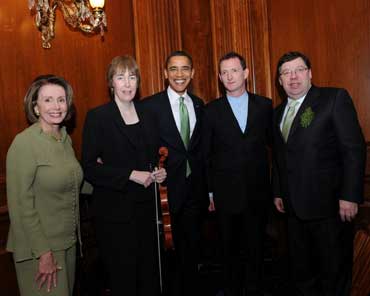 The instrumentals range from fiery sets like Carroll's The Chandelier/Anne Lacey's to more lilting numbers like the traditional Castle Kelly/Galway Rambler to slow laments like Carroll's Lament for Tommy Makem. The songs include a sweet ballad Down At The Wakehouse and a song of oppression and injustice A Pound A Week Rise.
Carroll's solo "Lake Effect" of 2002 was a disappointment from a melodic invention perspective, and although some original compositions here may also sound a little contrived or less earthy than traditional ones, there is still a variety of fine melodies overall. Importantly, they are lifted by infectious camaraderie, sheer professionalism, good fun and a true Irish spirit. An enjoyable experience.
Compass 7 4502 2 (Planet Co.)