Burlesque

Review of Bellowhead CD
By Julius Timmerman
Posted Wednesday, April 18, 2007
Bellowhead is an 11-piece band, or should I say orchestra, with vocalists, fiddles, guitars, concertina, bouzouki, bagpipes, drums, a good size horn section and odd sundry instruments. On the aptly-titled Burlesque they present songs in the English tradition.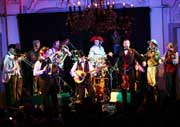 The lavish album cover, a very elegant presentation complete with detailed notes on the songs, hints at what the listener can expect. It has a distinctly Moulin Rouge look, although the contents of the disc are very English. The arrangements - bold, busy, complex, colourful and sometimes a little bizarre – give the album a show-time feel. In many ways Bellowhead picks up where the Albion Band and Martin Carthy's Brass Monkey left off, except bigger and wilder. A kind of "brassed off" Dr Faustus. The musicianship is impeccable and the recorded sound rich and spicy. Clearly a great deal of effort has been injected into the production. It's a full-on demanding listening experience.
Songs like The Rigs of Time, Jordan, London Town, Fire Marengo and Martin Carthy's Outlandish Knight, or instrumentals like Sloe Gin, Hopkinson's Favourite and Frog's Legs & Dragon's Teeth all have a gutsy swagger and bright full arrangements, while ballads like Peter Bellamy's Courting Too Slow and The Copper Family's One May Morning Early, complete with 4-part harmony, allow listeners to catch their breath. Even so, there are many surprises that introduce a worldly witty flavour to proceedings, and listeners might wonder what's next.
Not for the faint-hearted or those who enjoy the gentler side of English traditional music. For them the music will seem blown up out of all proportion. But if you reckon you can handle the big-time modern orchestral arrangements and showy vocals, give it a try.
Westpark Music 87132 (Planet Dist.)