Buena Vista Social Club at Carnegie Hall

Review of Buena Vista Social Club CD
By Julius Timmerman
Posted Sunday, December 21, 2008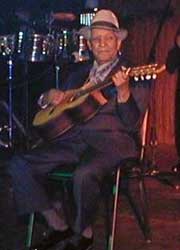 You've seen the movie, now listen to Buena Vista Social Club's ultimate success, the complete concert at Carnegie Hall in 1998 that featured in the movie. Curiously spread over two discs when it could have fitted on one, the album includes hits like Chan Chan, De Camino a la Vereda, El Cuarto de Tula, Veinte Anos and the beautiful duet Silencio.
Experience the endearing voices of Omara Portuondo, Ibrahim Ferrer and Compay Segundo and marvel at the masterful ensemble playing as well as the solo musicians like pianist Ruben Gonzalez. Of course Ry Cooder himself is there too, the man who brought the band together again after the members had already drifted into obscurity. Most importantly, be enthralled by the vibrant energy and enthusiasm that these elderly musicians, some of whom have since passed away, inject into this remarkable event.
As with the original Buena Vista Social Club release, an excellent booklet with lovely photos is included in a slipcase. The quality of the recording itself lacks sparkle but the exhilarating performances make up for that. Not to be missed by fans of Cuban music and Buena Vista.
World Circuit WCD080 (Fuse)