Boulevard de L'Independance

Review of Toumani Diabate CD
By Julius Timmerman
Posted Wednesday, April 18, 2007
This recording is quite a departure for master Malian kora player Toumani Diabate, who has recorded many solo or small ensemble albums. Here he has pulled out all stops and recorded the big vibrant sound extravaganza of his Symmetric Orchestra. Toumani's goal was to put traditional music into a modern setting where all the instruments are even and complementary.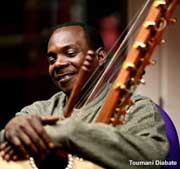 The Orchestra has been going for well over a decade. Based in Bamako, they have never played outside Africa, but play most Friday nights at an outdoor club. Musicians from all over Mali, as well as Senegal, Burkina Faso and Guinea join in. The orchestra has a reputation for being a musical hothouse where old and new music come together in an ambient setting. So kora, ngoni, balafon and percussion are joined by electric guitars, bass and drums. Griot music of the Mande empire is celebrated, but reconstituted within a kind of musical vision of pan-Africanism.
So has Toumani succeeded? Well, just about. The pulsating, dazzling sound is homogeneous, with fine musicianship, soaring vocals, crisp brass choruses and elegant, virtuoso kora breaks. Arrangements are complex and meticulous yet there's an overarching sense of fun and freedom.
However it's perhaps not as ground-breaking as one might expect and ultimately the mood is somewhat relentless, as if they are trying a bit too hard to make the same loud point over and over. Still, if you're in an energetic dance mood, it will certainly keep you going.
The album comes with a short DVD.
WCD074 (MRA)