Bloody Men

Review of Steeleye Span CD
By Julius Timmerman
Posted Tuesday, March 20, 2007
A solid new album from the everlasting Steeleye Span, but how interesting is it?
Steeleye Span was at the forefront of English Folk Rock in the 70s, alongside Fairport Convention, with top-selling albums like Hark! The Village Wait, Below The Salt, All Around My Hat and Commoners Crown. The personnel changed a little in the early days but there was always a winning combination, while the music became funkier and more electric as time went on, much to the delight of the fans. Eventually they faded from the limelight, but with further personnel changes they plugged on, touring and making albums. They've visited Australia a number of times.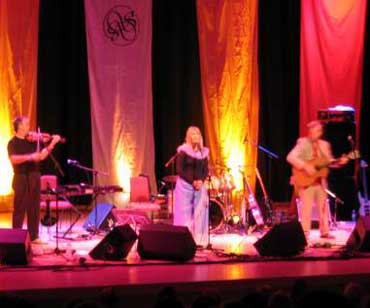 My, how Maddy Prior's voice has changed – before I checked the notes I thought the band had a new vocalist with a warmer but perhaps less distinctive voice. But it's Maddy alright, with fiddler Peter Knight, bassist Rick Kemp, guitarist Ken Nicol and drummer Liam Genockey, making for three long-time members in this line-up that has now recorded three albums.
On this new offering, "Bloody Men", the opening traditional "Bonny Black Hare" lets us know this is 21st century Steeleye Span with a modern sound that's more raunchy rock than folk. Luckily this doesn't set the tone for the whole album, as its grunginess just doesn't come off. Give me Karan Casey's superb trad version any day. On the next track "The Story of the Scullion King" written by the band, a more familiar Steeleye sound emerges. Three more original songs, "The Dreamer and the Widow", "Lord Elgin" and "The Three Sisters", follow – all "using the wiles and styles of the tradition", and very well done - before the band gets back to traditional numbers like "Cold Haily Windy Night" and a swinging set of reels. Overall there's a 50/50 mix of trad and original numbers yet the album, first track excepted, is homogeneous in style. A short bonus CD features five variations on an original "Ned Ludd", which curiously could have fitted on the first CD.
Steeleye's trademarks are all here – thick vocal harmonies, sensuous expressive fiddling, a rocking rhythm section, some fat guitar sounds and bawdy songs. They're all playing and singing well too. Still, at the risk of making unfair comparisons the album doesn't quite have the atmosphere that made those of their heyday so successful. On top of which, the sound was new and different then. Taken on its own merits though, it's a solid steady production with good moments, but is unlikely to send either fans or newcomers into ecstasies.
Music can find new audiences by pushing the envelope for a while but then finds new ones again by coming back to its roots. Perhaps the folk-rock extravaganza is past its use-by date as audiences embrace a fascinating new era of exquisitely produced acoustic traditional music and its fusion with other "world music".
PARK RECORDS PRKCD91 (thru Planet Company)