Beat The Devil And Carry A Rail

Review of CD by Noam Pikelny
By Julius Timmerman
Posted Monday, February 25, 2013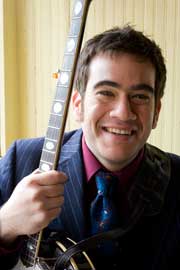 Noam Pikelny's first album since 2004 lies on the borderline between bluegrass and newgrass, boasting plenty of cracking multi-layered instrumentals and a couple of fine songs. Pikelny, lead banjo player for the Punch Brothers, is as skilled as they come and he has a first-rate backing band including Jerry Douglas on dobro, Tim O'Brien on mandolin, Chris Eldridge on guitar and fiddler Stuart Duncan, as well as a few guests, notably including Punch Bros/Nickel Creek's Chris Thile. Two of the twelve tracks have vocals - a cover of the Tom Waits song Fish and Bird beautifully sung by Crooked Still's Aoife O'Donovan and Tim O'Brien singing a great version of Bob McKinney.
Both Pikelny and Crooked Still are having a big impact on the country-folk-bluegrass scene, and their styles are not dissimilar, although some would say Pikelny follows in the footsteps of Bela Fleck, from whom he loaned for recording one particular track, a Deering signature model banjo once owned by the great John Hartford. Overall however Pikelny leans more toward the traditional than Fleck. Only a few tracks, like Pikelny's own My Mother Thinks I'm A Lawyer, The Broken Drought and Bear Dog Girl, have the witty jazzy feel that characterizes much of Fleck's work. Notwithstanding only one is actually marked Trad, the rest are imbued with a more conventional Appalachian-tinged country flavour, and Pikelny's own compositions (covering more than half of the album) are very good indeed. The bright Jim Thompson's Horse and fun Milford's Reel are rootin' tootin' fast paced numbers that highlight Pikelny's effortless easy-going technical mastery, while Cluck Old Hen, Boathouse on the Lullwater and The Broken Drought are reflective numbers that give the others like Jerry Douglas and clawhammer banjoist Steve Martin a chance to shine.
The album plays out like a well-oiled jam session, full of good humour and delight. It establishes Pikelny as a leading figure of bluegrass revival.
COMPASS 745652 (thru Planet Co.)