An Ancient Muse

Review of Loreena McKennitt CD
By Julius Timmerman
Posted Tuesday, December 19, 2006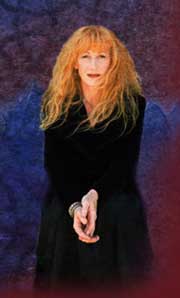 The travelling minstrel has returned at last. It's been a long wait, but fans of Canadian singer-harpist Loreena McKennitt shouldn't be disappointed with her new album - unless after all this time they wanted to hear something radically different. Loreena has picked up the folk/new age sound right where she left off, with an exotic, eclectic, beautifully produced and engineered concept album. It comes complete with Celtic and Eastern sounds, and lyrics inspired by studious research or travels to out of the way places. The style is very familiar, but it's been honed to perfection.
The gorgeous cover artwork invitingly features a night-time scene with an Eastern-looking tent in a forest backed by snow-capped mountains. Inside, the booklet adds to the invitation: "Tell me, O muse, of those who travelled far and wide…". It is in fact a diary of her travels, detailing the various historical or literary inspirations for each song, from the legendary home of King Midas in Anatolia to tombs of mummies on the Silk Road.
Loreena's cultural travelogues began with "The Visit" but became more developed with "Mask and Mirror" and "The Book of Secrets". In "Mask and Mirror", Loreena was inspired by Mediterranean travels. In "Book Of Secrets" she had reached further, with songs about places from Ireland to Siberia, and her musical expressions by then included no less than two dozen collaborating musicians.
Some of those turn up again on "An Ancient Muse", like Brian Hughes on guitars and Celtic bouzouki, Rick Lazar on percussion, Hugh Marsh on violin, Nigel Eaton on hurdy-gurdy and Manu Katche on drums. Added to these are the legendary Hossam Ramsay on percussion, Steafan Hannigan on Turkish clarinet and uillean pipes, George Kontogiannis on Greek bouzouki, the English gamba ensemble Fretwork, a choir and even choristers of Westminster Abbey. And more! Loreena unfortunately has again put her harp aside, perhaps, as she once said to me, because she had a rogue way of playing. Sounded fine to me, but nevertheless her session musicians are again judiciously employed to provide a full, warm and sensuous backing without cluttering the sound.
"An Ancient Muse", her seventh album (not including an EP and a live double), has a tried and trusted framework but this time looks towards Mongolia, north-west China, Turkey, Greece, Jordan and England, all places where she has continued to explore Celtic history and prehistory. Although naturally discovering diverse cultures, Loreena concludes "we are a culmination of our collective histories and there should be more to bind us together than tear us apart." Well said. This "musical document" is indeed a kind of collective expression combining elements of these varied cultures, all put together in her own special way. Loreena's early albums had both traditional and original songs. Here they are all hers – only "The English Ladye and The Knight" (featuring the rich tones of Fretwork and the choir) is a poem by Sir Walter Scott.
Like "The Book of Secrets", this is a laid-back affair, dominated by a variety of strings and eclectic percussion. Some might again wish for a little more action, but much of the simply constructed music's appeal lies in the colourful nuances of instrumentation, the intelligent creative arrangements and the engaging power of her pure voice.
So by and large, more of the same romantic dreamscapes, but how picturesque, elegant and accomplished they are.
QUINLAN ROAD MR60492 (thru MRA Entertainment)