Afrocubism

Review of CD
By Julius Timmerman
Posted Thursday, December 2, 2010
This collaboration between Malian and Cuban musicians was to have occurred fourteen years ago, about the time of the Buena Vista Social Club recording, but the Malians didn't arrive, so the project was put on the back burner. Fortunately for us here it is at last.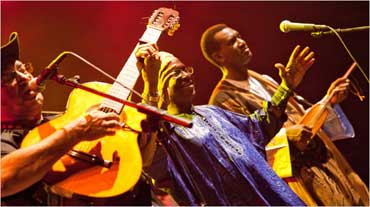 The tracks have material from both cultures of course, but most of it has an African feel. There's more than a handful of talent here. Guitarist and singer Eliades Ochoa, who featured on Buena Vista Social Club's version of Chan Chan, opens with a relaxed version of Al Vaivén De Mi Carreta, a song he once recorded with its composer, Cuban troubadour Ñico Saquito. The other main singer on the album Kasse-Mady Diabaté takes over in the second half, providing a nice contrast with his moderated griot voice.
The instrumentalists are equally distinguished. Kora maestro Toumani Diabaté teams up with x-Super Rail Band guitarist extraordinaire Djelimady Tounkara, Lassana Diabaté on balafon and ngoni specialist Bassekou Kouyate, a rising star who really knows what rhythm is all about (check out his own albums!). Cuban band Grupo Patria fills out the arrangements.
There's a nice camaraderie at work here, everything is so fluid and homogeneous, and everyone gets to shine on their own here and there. Most of the songs were recorded live in the studio in five days! Diabate blends in more than the others and is really only obvious towards the end, especially on the lovingly different version of Guantanamera. Tounkara is in top form with plenty of unique licks and Kouyate is simply a marvel. Vocals, both upfront and backing, are strong and compelling.
The album has a stamp of its own, full of joy and easy on the ears. Fans of African and Cuban music will derive heaps of pleasure.
WORLD CIRCUIT/NONESUCH 525993 (thru Fuse Music)