Absolutely Irish

Review of live Irish concert CD
By Julius Timmerman
Posted Thursday, March 5, 2009
This is a recording of a live concert at the Irish Arts Centre in New York City in April 2007. Filmmaker Paul Wagner and musician Mick Moloney organised some special Irish musicians, singers and dancers, all of whom had played together before, to be filmed for American Public Television. They rehearsed for two days before presenting a fine, exuberant performance before a rapt audience.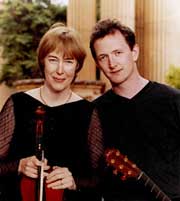 The musicians included Liz Carroll, Karan Casey, John Doyle, Seamus Egan, Eileen Ivers, Joanie Madden, Billy McComiskey, Susan McKeown, Mick Moloney, Jerry O'Sullivan and others – an impressive line-up.
A variety of styles were presented – from countryside traditional medleys and ballads to dances and pub-style songs. They include McNally's Rows of Flats, The Kings Shilling, Flower of Kilkenny, Lark in the Morning, Fair London Town and The Leaving of Liverpool. All are played and sung with a keen sense of fun and engagement, making for an album of light enjoyment.
American Focus/Compass 744802 (Planet Co.)