Wind Water & Metal

Andy Copeman CD review
By Julius Timmerman
Posted Wednesday, January 12, 2005
Although born in Brisbane, Andy Copeman has had a 25-year professional music career in Western Australia playing in a variety of folk, world or rock ensembles. He's a virtuoso multi-instrumentalist, composer, writer, singer, recording engineer and arranger.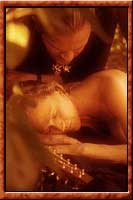 On this highly creative second solo album he plays guitars, cittern, bass, oud, fiddle, kora, bodhran, didgeridoo, overtone flute, water bottle, Tibetan and Nepalese chimes, keyboards and sequenced percussion. He's also added a touch of exotica by way of field recordings including wind chimes at the markets in Denmark WA, coastal sounds near Albany WA and church bells in Belgium. This passion for soundscapes forms the basis for what he calls "The Spelman Project", a musical journey that conjures up the "dark recesses of the soul" with evocative songs and tunes mixed with natural sounds and poetry. Andy has taken the project on stage as well, and this is just Volume 1 – there are two more to come.
"Spelman" is Swedish for 'a player of folk music'
"Spelman" is a Swedish word for a player of folk music, but it also conveys a weaver of spells through music and sounds. The sounds are there for embellishment though - the heart of the album lies in tuneful traditional and original music, deftly played and beautifully arranged, the album sinuously winding its way through a variety of moods and textures. Andy plays traditional Irish, Macedonian and Norwegian tunes, a song by Bert Jansch and draws his own musical ideas from the Celts, Europe, his home in Western Australia and many other places. In a sense he's Australia's answer to UK bass player Jah Wobble – like Jah he has fused many elements into an amazing and imaginative musical adventure.