Tales of Whiskey & Sugar

Review of CD by Sue Daley and The Sea Of Heartbreak
By Julius Timmerman
Posted Thursday, December 10, 2009
Sue Daley & The Sea Of Heartbreak's debut album, Tales of Whiskey & Sugar, has an engaging homespun feel featuring classic sittin' on the porch traditional-styled rural music. It will make you feel good. If you are stressed out, it will be a soothing balm.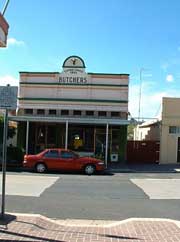 The band hails from Portland in NSW, a charming little rural town near Bathurst, which since the cement works closed, has been something of a time capsule with its two old hotels and numerous crafty shops, many re-decorated with original billboards like Arnotts Biscuits and Kinkara Tea. It's a fitting backdrop for a group with a single idea of keeping the folk tradition alive, albeit American.
Sue's sweetly caressing voice, accompanied by husband James Daley on guitar, banjo and mandolin, and Adam Fergusson on guitar, takes the listener through a cross-section of folk music of largely American origin (Appalachian numbers like The Cuckoo may in turn have European sources). It's apparent that the band's repertoire and sound is inspired by great elder statesmen of American rural and country music like Doc Watson and Bill Monroe, as well as neotraditional musicians like Gillian Welch, Kieran Kane, Kevin Welch or Peter Rowan. From country and rural songs like the traditional Rambling Cowboy, Shady Grove, Gypsy Davy and Hank Williams' Rambling Man to old-time music like St James Infirmary and Bill Monroe's 'Twas Midnight On to a relaxed rendition of Gillian Welch's "American Primitive" Caleb Mayer, this tightly-knit trio expresses a sincere and tender gentleness in their homage. Their arrangements may be minimal, and their tempos nice and easy, but they really get to the heart of the music they adore.
Custom CD suedaley@tsn.cc