Nautilus

Steve & Ros Barnes CD Review
By Chris Wheeler
Posted Sunday, January 23, 2005
This is a good album to listen to in the wake of the tsunami disaster that enveloped south and southeast Asia the day after Christmas. A third album from Steve and Ros Barnes of original songs by Steve, this collection deals with survival, love, tenacity and compassion. Steve is the director of the annual Fairbridge Folk Festival in Western Australia since 1997 and an accomplished guitarist and songwriter. Ros is a singing teacher and speech pathologist who has made her mark as one of the more successful trainers in the difficult area of non-classical singing styles. After singing Steve's songs for almost twenty years, it's clear that she is more than comfortable interpreting his material.
The songs include two cameos – the first, 'Water to the Trenches', traces the experiences of the last Anzac, Alec Campbell, who died in 2004. The irony of prime minister Howard authorising a state funeral for Campbell, who was a lifelong pacifist and union organiser, is not lost on Steve. The second, 'The Afghan', depicts one of the last surviving Afghan camel drivers in northern Australia, Arthur Hoosan. Other songs deal with general issues of love, growing children, the tenacious and unlikely survival of species, Australia's recent treatment of refugees, recovering from grief and loss, and looking over your shoulder in the modern world. Good grist for the Australian folk mill.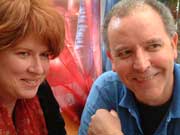 The album was made in the studio of British duo Chris While and Julie Mathews, who appear on piano, guitar, harmonica, accordion and harmony vocals throughout the album. Other instrumentalists include the high profi le UK players Chris Leslie on fi ddle, Gerry Conway on percussion and Martin Brunsden on bass, as well as a guest appearance from fellow Australia Mia Dyson on lap steel on one track. Musically, the album doesn't break any new ground or take any risks, but with such outstanding instrumentalists plays happily with concepts like 6/8 across ¾ time, a variety of open guitar tunings, and changing the sound from full band right through to simple voice and piano on one track. Most of the lyrics are addressed in the first or second person, which I found a little cloying in the love song 'Anchor and Sail' despite the pleasing nautical imagery. Generally though, the personal nature of the lyrics is a plus, with the songs seeping gently into thoughts and leaving musical and lyrical phrases lodged there like some tasty morsel in the beard for later (or so I'm told). Flawless musicianship from start to finish makes the album easy to listen to subliminally as background music, but turn the volume up, sharpen your focus and every so often in amongst the quiet wisdom and experience conveyed by lyrics and instrumental work you get a glimpse of the fun that was involved in making this fine album.
'Nautilus' is available from their website or write to:
Western Wave Recordings
17 Stevens St
Fremantle WA 6160