Vladimir the Inhaler, Vampire Villain

A tragic tale of gut and gore!
By Amalina Wallace
Posted Thursday, February 24, 2005
As Vladimir climbed up the steps of the airoplane, his eye glanced upon a nubile young air hostess. feeling cranky at the thought of hours in the air without his bats, Vladimir smiled at the young hostie as he slid into his seat.
It was Jessica's first flight. she was excited, and she knew that this was her lucky day. As she stood smiling at the front of the cabin, she looked at the man in 32a.
He was tall, thinning on top, and had a questioning look in his eyes. Somehow she felt compelled to walk towards him.
"Can I help you sir", she whispered nervously. He smiled, and looked deep into her eyes -
"A bloody mary, thanks. With lots of salt."
Vladimir twitched impatiently as he sat in the airplane seat. He watched that pale, elfin yound hostess with impatience. He could see her fluttering, trembling as she passed him the Bloody Mary. He was just biding his time until he could get into the cubicle and snort some speed.
Vlad's heart was beating, his muscles racing, blood pumped to his head, he could feel the vein on his throat throbbing. Leaving him sitting in this flight, under those fluorescent lights, watching that quivering hostess, was a special type of strain.
As the lights in the cabin dimmed, he heard a sardonic laugh from the back of the cabin. A well dressed, distinguished looking man in his middle years was pulling something down from the upper cabin. Soft, ironic, yankee accent, a little gruff, maybe. Smoker? What was that object? It was...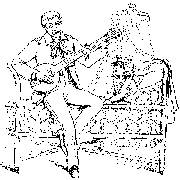 ... a banjo! ... strains of Del McCoury flooding down the eisle, and that young air hostess, moving enraptured, towards the sound!
Damn. Vladimir tightened his strap. Bats taste better, anyway.