Pint sized phenomenon discovered

fabulous alto singer
By Gial Leslie
Posted Thursday, December 30, 2004
Gial Leslie, a pint sized alto singer was discovered last month at her debut performance at the last Loosely Woven Christmas concert. Since then her schedule has been full with people wanting to hear an alto concert.
At this stage Gial is specialising in the 2nd and 3rd verses of some lesser known Christmas Carols. Though her repertoire may be limited her enthusiasm is not!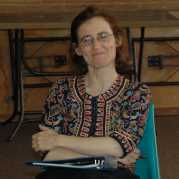 If you would like to book Gial for a performance, get in quickly as she is sure to be booked out months in advance. (Gial is singing unaccompanied and her starting pitch has been a little wild).