Loosely Woven (Images)

Introduction to Loosely Woven
By Wayne Richmond
Posted Wednesday, December 29, 2004
"The Loosely Woven phenonemon is rather unusual. In fact, there is really no such group as 'Loosely Woven' – it is merely the name given to whoever I am able to round up for a particular concert." So explains founding member Wayne Richmond.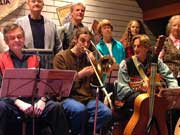 "One important characteristic of Loosely Woven concerts is that they are performed strictly acoustically. Apart from the keyboard amp (an unfortunate necessity) no other amplification is used. Not only does this mean that the audience has a rare opportunity to actually hear the sound of vocal chords and violin strings vibrating (instead of the usual speaker membrane!) it also finds itself on an equal footing with the performers when it comes to the many opportunities provided for joining in. There are always lots of opportunities for audience participation in Loosely Woven and when they do it sounds fantastic for all of us!
Any instrumentalist or singer who would be interested in participating in a future Loosely Woven event should get in touch with Wayne Richmond on 9913 7788.