Find this page online at: http://jam.org.au/moxie/venues/thedog/DOG-review-November-2006.shtml
Danny Spooner + Margaret Walters, 25th November 2006 @ The Loaded Dog

A Review
By Dawn Davis
Posted Friday, December 1, 2006
Saturday nights at the Loaded Dog are always fun, and this one was no different.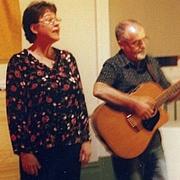 First up, there was a short floor spot from The Goodwills, a couple who come from Maleney in Queensland and performed their own material. They began their performance with a humorous song called "Sailing" which they followed with a haunting song about the experience of immigrants to New Zealand in the 1950's. They also sang a song called "Courting the Net" about cyberspace romance. But the one that stood out for me was a song about farmers in Queensland facing drought and bills - and eventually rain - and the effect these have on the lives of people in the country.
It is always good to see new acts, which is one of the reasons the Loaded Dog is such a good venue. The Goodwills have great writing talent, no wonder they are favourites of Macca & Australia All Over!
We then had a set from Margaret Walters, a well-known and integral part of the folk music scene in Sydney. Her infectious style had everyone singing in great chorus songs of the sea, the land and the people of Australia. These songs always have great potential for harmonies. Then for something completely different she sang "Cry Me a River", the blues jazz song, which highlighted her talent for singing songs from all sorts of genres.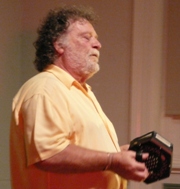 Danny Spooner then took centre stage and with his booming voice and stage presence had us all enchanted with his many tales of the sea and his own life experiences. He always has lots of little historical tidbits to share with his audience. Danny took us from French songs of the sea to a pleasing solo version of Leon Rosselson's "The Ant and the Grasshopper" sung without harmony support. Songs ran the gamut from haunting songs of the whaling industry, to songs about racehorses and trade unions. He had us raising the roof.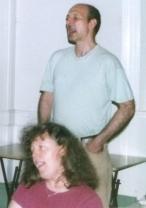 Danny then invited Margaret and John Warner up to join him in John's great union song "Bring Out the Banners". Given the well-known tune (See amid the Winter Snow), this is always a great song for stirring up the audience's social consciences and encouraging them to sing.
A great final night at the Dog for 2006.
Photos courtesy of Mike Young and Sandra Nixon