Find this page online at: http://jam.org.au/moxie/venues/illawarra/about-illawarra-folk-club.shtml
About Illawarra Folk Club

Posted Sunday, December 31, 2006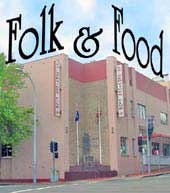 The Illawarra Folk Club Inc, established in 1980, is a non-profit incorporated association with the aims of promoting, presenting and performing folk music, song, dance, poetry and storytelling. It presents 2 concerts per month and one of Australia's major folk music events - the Illawarra Folk Festival at Jamberoo.
The Illawarra region is situated approximately 100 kilometres south of Sydney on the New South Wales coast with Wollongong as the major centre. It also includes the Shellharbour and Kiama areas.
The club presents numerous, irregular events at various locations including:
Wollongong Ex-Services Club
Wongawilli Community Hall
Performer enquiries
Russell Hannah (02) 4297 1777
See web site for details.