Find this page online at: http://jam.org.au/moxie/events/sydneysouth/concert-for-margaret.shtml
Concert for Margaret

Thursday 14th Dec 2006
By Jenny Watson
Posted Wednesday, November 1, 2006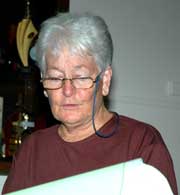 Dear Folkies,
Margaret Bradford has been a tireless and self sacrificing organiser of the Sutherland Folk Club for the last 15 years. It seems that once she gets back from Alaska in October, she will look to step down to let younger members have a go. So it is with this in mind and knowing that I have a few months to organise some performers without her being aware the Sutherland Folk Club plans to put on a benefit concert for Margaret Bradford.
It will be held on Thursday 14th December at Sutherland District Trade Union Club. Please keep it under your hat as it would be great if she got the surprise of her life. We plan to donate funds from those attending to Margaret's choice of charities so it would be a pro bono performance but there'll be a nice supper, cake and wine and balloons!
What is envisaged at this stage is that each person or band would play two songs each and we'd finish with an all in of a couple of well known sgs with Margaret leading of course.
If you are interested in having a spot please email or phone me on (02) 9576 2301 after 6.30pm.
Thank you.
Yours faithfully . . .
Jenny Watson (on behalf of Sutherland Folk Club's committee)