Find this page online at: http://jam.org.au/moxie/events/sydneynorth/NNW-2005-December.shtml
Christmas Get-Together with the Wheeze and Suck Band at North by Northwest

Thursday, 1st December 2005, 8pm
By Jenny O'Reilly
Posted Friday, November 11, 2005
On Thursday, 1st December, at 8pm, we are holding our Christmas Get-Together, and what better way to round up the year than with the fantastic Wheeze and Suck Band.
Armed with a tighter, trimmed down line up, the band consists of Ian 'The Pump' Macintosh - Guitar, Melodeon, Vocals; Tony 'Pyro' Pyrzakowski - Fiddle, Vocals; Geoff 'Woody' Woodhead - Guitar, Mandolin, Vocals; John 'Bongo' Milce - Percussion; and - returning from the UK - Nigel 'Muddy' Walters - Cello Mandolin, Appalachian Dulcimer, Vocals.
The band has maintained its energetic and popular mix of old time, traditional and original material. The 'Wheezers' gigs are unusual in several ways. For one thing, they actively invite their audiences to join in with their voices and instruments.
"The spirit of roots music is in its shared experience, so our invitation extends beyond just singing along," states 'the Pump'.
Most striking is their dress sense. The Pump will often sport a lady's dress, whilst Pyro wears a formal suit and Bongo an original Beatles jacket; which he claims, spuriously, to have been once worn by his fellow Liverpudlian, Ringo Starr. And to crown this strange musical apparition, all four heads sport black top hats.
What else can I say? For a fantastic experience - JUST BE THERE!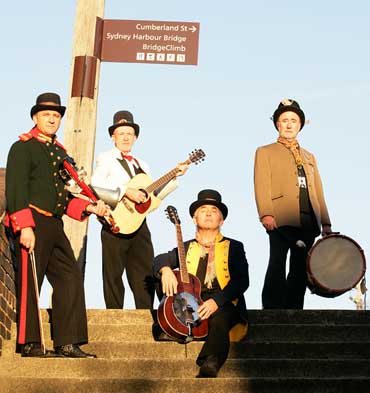 North By Northwest Poetry and Folk Club meets in The Cornucopia Cafe, and is one of the best acoustic venues in Sydney. There will be refreshments for sale and BYO's are welcome.
Enquiries - Jenny/John 9559 3658 (h) / 0414 903 259 (m) jdcarter@iinet.net.au , Tony 9858 7882 (w)/0409 784 689 (m).
See you there!