Find this page online at: http://jam.org.au/moxie/articles/concerts/DOG-review-september-2005.shtml
The Shiny Bum Singers at The Dog

Reviews of September 2005 Loaded Dog
By Sandra Nixon
Posted Friday, October 14, 2005
An impressive variety of acts was presented at the Dog on Saturday 24th September.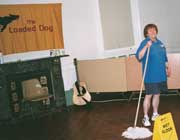 The main act was The Shiny Bum Singers from Canberra, but this time we were also treated to many Offshoots from this group, all talented in their individual ways. As well as the expected satire, The Bums & Offshoots gave us traditional folk, the animal rights movement, Leonard Cohen, gospel, poetry, and silly songs. The Bums used a Powerpoint presentation so the enthusiastic audience could sing along with the choruses.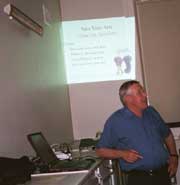 The floorspots were also enthusiastically received. Regulars Margaret Walters & John Warner gave us a song each. The duo Lyrebird on their second visit to the Dog were also warmly received, singing us two of their original songs accompanied by soulful guitar. Michael Smith who has recently returned to the folk world after a long illness had the audience singing along to a very moving rendition of 'Starry, Starry Night'. A visiting poet, Colin gave us 2 rail-related poems whose words relayed the sounds, smell and motions of the days of steam.
All in all it was a great night and we look forward to the next Dog on 22nd October when Touchwood & Helen Rivero will fill the hall with song.
Review by Dawn & Mike Richter
Further comments from #1 fan, Sandra
They sang about work clothes ('Daggy Suit' ), retirement ('No Work, No Work') , fire drills ('Evacuation Serenade'), political manouvering ('Smug, the Smarmy Treasurer'), teamwork ('Someone Shafted Evelyn'), kitchen etiquette ('The Office Fridge'), support staff ("Don't cry for me, I'm the cleaner"), career paths & mentoring ('Cover your arse') & lots more, so if you missed them this year, don't forget they'll be back next year!!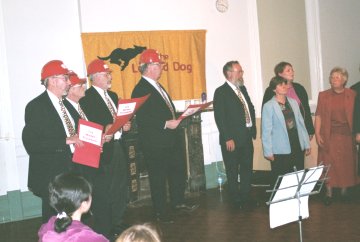 November 26th brings our celebration of our 15th Birthday with founder Carole Garland & original members Peter Hicks & Geoff Francis & a cast of thousands. Don't miss it.
Our last concert for 2005 will be Sat 10th (second Sat) when The Wheeze & Suck Band and The Roaring Forties will raise the roof, and a night of great chorus singing will be guaranteed.
Then we start 2006 with the amazing Martin Pearson's Unfinished Spelling Error's of Bolkein on Sat 25th Feb.