Find this page online at: http://jam.org.au/moxie/articles/festivals/henry-lawson-festivalgulg.shtml
Henry Lawson Festival

Review - Gulgong, June 2005
By Graeme Johnson
Posted Friday, July 22, 2005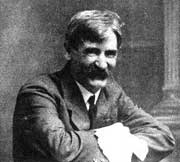 Once again the crooked streets of Gulgong played host to the annual Henry Lawson Heritage Festival run by the local Henry Lawson Society of NSW & sponsored by "The Land" Newspaper & Country Energy.
One of the Country's most sought after & prestigious set of Literary Awards, the Ceremonies, were once again held in the magnificent Prince of Wales Opera House.
Finalist in the Leonard Teale Spoken Word Award performed 'Live' for the judges and the attentive crowd was also entertained by The Sydney Trade Union Choir and some of Australia's best Bush Poets, Geoff Sharp, Noel Stallard, Ray Essery & John Major.
The Sunday Poet's Brekky was a lively affair hosted by Bob Cummins & the Hunter Bush Poets who also performed at various venues around the town over the course of the long-weekend.
One of the major productions for the Festival was the inclusion of the 23 strong "Henry Lawson in Song & Verse" troupe from Sunny Qld who showcased a broad range of Lawson's work in fine voice & traditional verse.
Internationally renowned Artist Donna Gilbertson ran workshops, There was a Street Parade, Market Stalls, Town Heritage walking tours, Old time dancing, Pipe Bands, A local food fair, Picnic Races, a screening of the Silent Film Classic "The Sentimental Bloke" & much much more. As the tourist pamphlet said, "Gulgong-More than History!"
AWARDS RESULTS 2005
Leonard Teale Memorial Spoken Word Award
1st: Graeme Johnson $1000
2nd: Carolyn Eldridge-Alfonzetti $400
3rd: Ron Stevens $200
Henry Lawson Adult Literary Award
1st: John Roberts $400
2nd: John Roberts $100
3rd: Alan Buggy (Book prize)
Adult Short Story
1st: Cheryl Rogers $400
2nd: Joe Backshall $100
3rd: Heather Bird (Book Prize)