Find this page online at: http://jam.org.au/moxie/venues/northbynorthwest/NNW-July05.shtml
Paul Hemphill at North by Northwest

Thursday 7th July 2005, 8pm
By Jenny O'Reilly
Posted Tuesday, July 5, 2005
iconoclastic . . . idiosyncratic . . . rarely sighted in the wild . . .
On Thursday 7th July, at 8pm, our special guest performer is Paul Hemphill - described as onetime Arabist and academic, sometime singer and songwriter - famous in his own lunchtime for such anthems as I Still Call Mongolia Home, Samson & Delightful and Torquemada's Blues.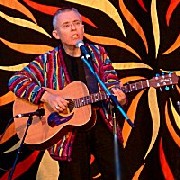 His albums True Believers and The Drovers Dog and Other Stories, once critically acclaimed, are today more memorable for their artwork! Paul has performed throughout Australasia and the UK, on his own, and also as a member of Huldrefolk. Vikings, Romans, Mongols, and the Spanish Inquisition have all faced the music.
A multi-award winning songwriter, he combines poetry and music, horror and humour in a manner that is versatile and entertaining.