Find this page online at: http://jam.org.au/moxie/venues/hh/hhbeez12.shtml
The Beez come to Humph Hall

2pm, Sunday 4th March 2012
By Wayne Richmond
Posted Monday, January 23, 2012
The Beez play an average 120 shows a year, primarily in Europe, but extending to major folk festivals in Canada and Australia (Woodford, Port Fairy, The National, Adelaide Fringe et al. They have also appeared on ABC TV´s Spicks and Specks.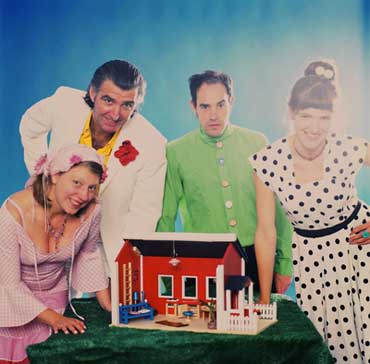 Accordion chanteuse and native West Berliner Deta co-founded the legendary Berliner cabaret venue Chameleon shortly after the fall of the Berlin Wall. This rapidly became a major talent pool for musicians from east and west who could, for the first time in 50 years, make music together.
Velvet-voiced East Berliner Julischka, singing bass player with punk and Balkan leanings, joined Deta for an historic east-west accord to form The Beez.
Deta drafted Sydney boy Rob Rayner, singer and guitarist, who had arrived in Berlin shortly before the fall of The Wall, and finger picking San Franciscan Peter D'Elia on banjo and dobro.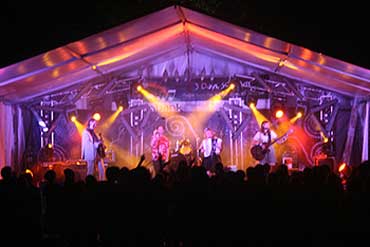 Originally a staple of the Chameleon´s hallowed boards, The Beez transcended cabaret to form their own unique blend of music and humour with which they have enchanted audiences all over the world.
Once purveyors of excentric cover versions of songs from the Balkans to the Baltic, The Beez now 'cover' their own compositions and, with the addition of soaring four-part harmonies, create a bittersweet and truly diverse potpourri of genres.
Lyrically incisive in both English and German, The Beez cut a swathe between scathing and soothing, their trademark cabaret sensibilities never far from the surface.
Call or email Wayne (02) 9939 8802 to reserve your seat.
Humph Hall
85 Allambie Road
Allambie Heights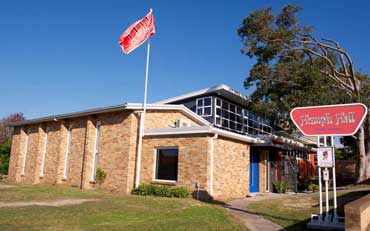 Formerly the Allambie Heights Uniting Church, Humph Hall is now the private home of Gial Leslie and Wayne Richmond.
As with all concerts in Humph Hall The Beez will perform acoustically - no PA system!