Find this page online at: http://jam.org.au/moxie/events/sydneyeast/Cafe4Nov18.shtml
Cafe Dalor Open Mic

7.30-10pm Friday 18th November 2011 (1st & 3rd Fridays)
By Roger Fyfe
Posted Friday, July 29, 2011
Max Gregory & Sonia Bennett (Blue Goose) & Ian Macintosh (Wheeze & Suck), + Lance Whear & The Book of Vilah.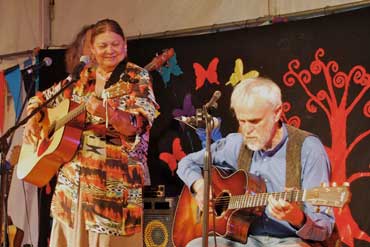 Café Dalor Open Mic has been running for eight months now meeting on first & third Fridays of each month providing a relaxed stage for mixed performance styles, wide age range with high degrees of musical experience. Cosy, intimate atmosphere with courtyard ideal for folksinger songwriters, soft blues etc. Great coffee, good food, BYO wine & beer etc. PA Supplied.
Café Dalor
237 Wardell Road
Dulwich Hill (lower village, near train station on Bankstown Line)
All welcome. Come along and enjoy this cosy new venue.
Go to Website Performer Listings
Info: Roger Fyfe (0425) 261 953
Supported by Smallstage, Cafe Dalor, & SO Music Record store Newtown