Find this page online at: http://jam.org.au/moxie/venues/hh/summertime.shtml
Loosely Woven presents 'Summertime'

2nd - 18th December 2011
By Wayne Richmond
Posted Thursday, October 27, 2011
Loosely Woven is a community based group of people who put together and perform three brand new shows each year. 'Summertime' is the third of these for 2011.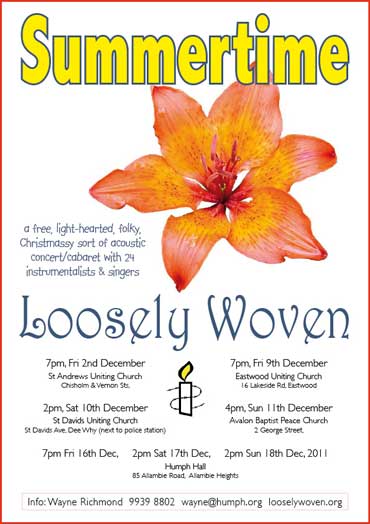 The concert includes a selection of Christmas-related items but not your usual set of Christmas carols. The concert begins with 'The Huron Carol'. There is also a very clever arrangement of 'I saw three ships', an adaption of Susanni as performed by The Renaissance Players, a fun song called 'Grandpa's gonna sue the pants offa Santa' and a spectacular arrangement of 'O Holy Night'.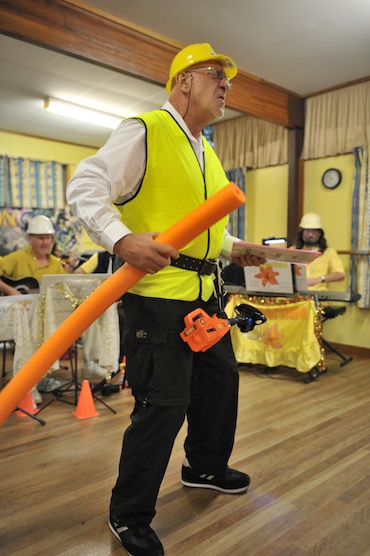 The rest of the concert will be the usual eclectic Loosely Woven mix ranging from a heart-wrenching Hottentot song called 'The Bethlehem Bell Ringer' to the concert's title song, to excerpts from The Rocky Horror Show and Moulon Rouge. There are 24 of us performing this time with an instrumental line-up that includes: harp, flute, clarinets, saxophone, violins, guitars, piano, accordion, keyboard and percussion.
See the 'Summertime' web site for details of the program.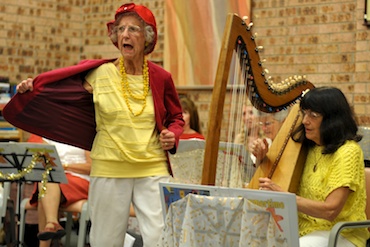 All Loosely Woven concerts are performed acoustically - no PA!
There will be seven public performances including three performances in Humph Hall:
St Andrews Uniting Church, Sth Turramurra
7pm, Friday 2nd December
Chisholm & Vernon Streets,
Eastwood Uniting Church
7pm, Friday 9th December
Waitara Avenue, Waitara
St Davids Uniting Church, Dee Why
2pm, Saturday 10th December
St Davids Ave (next to the police station)

Avalon Baptist Peace Church
4pm, Sun 11th December
2 George Street, Avalon
(for Amnesty International)
Humph Hall, Allambie Heights
7pm, Friday 16th December
2pm, Saturday 17th December
2pm, Sunday 18th December
85 Allambie Road
All of the concerts are free though donations will be invited to various causes.
The Humph Hall performance on Saturday 17th December will be recorded and videod and made into a DVD.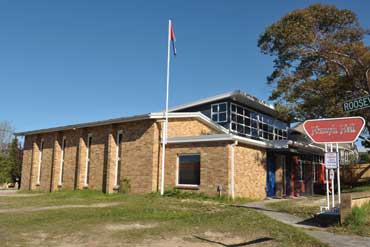 Formerly the Allambie Heights Uniting Church, Humph Hall is now the private residence of Gial Leslie and Wayne Richmond.
For more information visit the Loosely Woven web site or contact Wayne by wayne@humph.org or phone: (02) 9939 8802, (0400) 803 804.